Overview:
Port Gantry Crane Component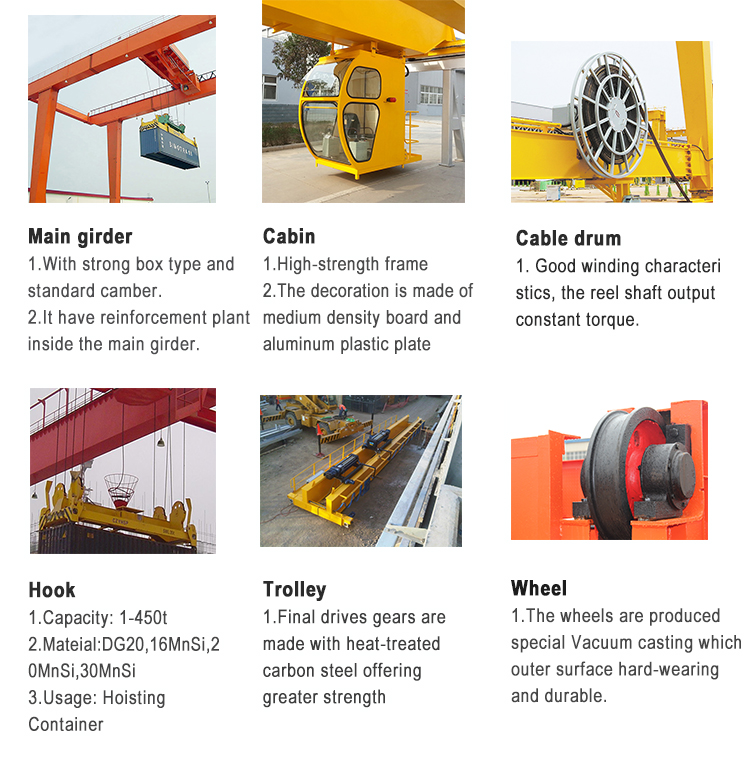 Mian Girder: The bridge is the primary structural component of the crane, spanning the width of the dock and supporting the trolley and hoist.
Trolley: The trolley is a movable platform that runs along the bridge, allowing the crane to move horizontally along the dock.
Hoist: The hoist is the component that lifts and lowers the load, usually a container. The hoist is typically attached to the trolley and can move vertically along the bridge.
Spreader: The spreader is the component that attaches to the hoist and is used to grip and lift the container. Spreader designs can vary depending on the size and weight of the container being lifted.
Rails: The rails run along the length of the dock and support the crane's movement along the dock.
Control room: The control room is usually located on the crane structure and houses the controls and equipment needed to operate the crane.
Electrical system: The electrical system includes the motors, switches, and other components needed to power and control the crane.
Safety equipment: Port gantry cranes are equipped with a variety of safety features, such as limit switches, overload protection, and emergency stop buttons, to ensure safe operation.
Features
1) Simple structure in linear type ,easy in installation and maintain.
2) Adopting advanced world famous brand components in pneumatic parts ,electric parts and operation parts.
3) High pressure double crank to control the die opening and closing.
4) Running in a high automatization and intellectualization,no pollution
5) Apply a linker to connect with the air conveyor ,which can directly inline with filling machine.