Overview: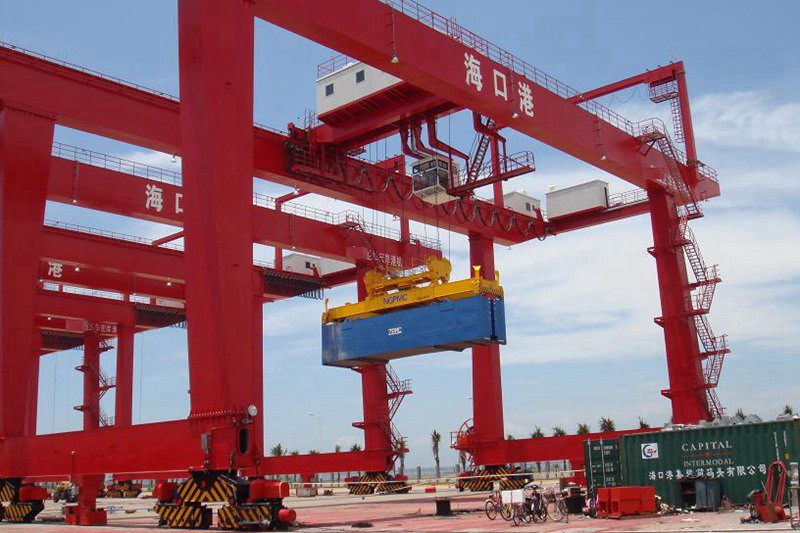 Container Crane Specification:

1. Capacity:5-50ton
2. Span: up to 40m or as required
3. Working duty: A5/A6
4. Voltage supply: 220-440V, 50/60Hz, according to local conditions



Features
I. Container Crane Application:
container terminals, open storage yards and along the railway lines to load or unload container

II. Container Crane Structure:
Double welding box girder, DIN/FEM standard deflection, Steel tube legs. It runs on a runway at the floor level. The bridge is supported by a pair of rigid steel legs which are carried by a pair of end trucks along the floor level runway.

III. Container Crane Manufacturing Details:
Whole length CNC cutting for complete web plate, high deflection accuracy
High quality automatic welding and NDT inspection. Shot-blasting Sa2.5 for complete girder after welding, stress release. Epoxy zinc rich high quality painting, 2x2 with 140μm
10.9 class High tension bolts mounting between girder and legs, life time safety connection
Vertical gear motor driving, more safety and smaller space
High protection class IP55, F class, 40% ED

IV. Container Crane Power supply cable and control cable along the girder
A protective earth conductor is fitted as standard, a crane switch is provided.
Travel end switches, long and cross travel limited y means of preliminary and final limited switches and overload protection.

V. Container Crane Cabin Operation Control
Two steps push button or joy stick station with emergency stop
Professional chairs, adjustable and fully turning
Easy operation
Round window, big view
End carriage equipped with anti-friction bearings, cellular buffers, derailment protectors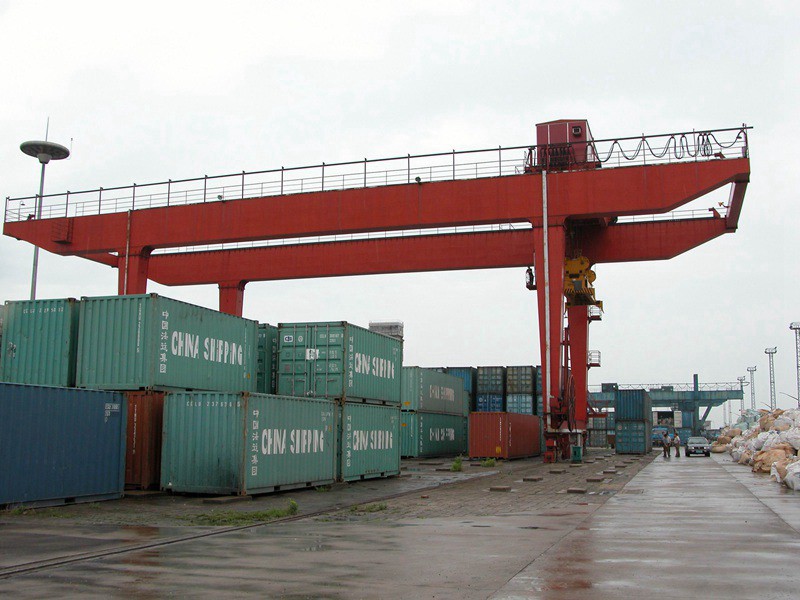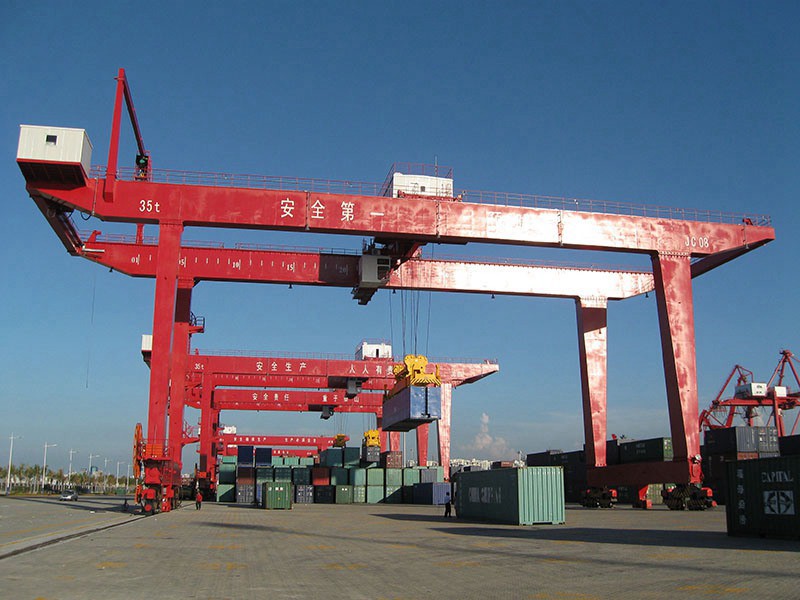 Specification
Container Crane Technical Parameter


Following technical specification is for reference. Spreader is for container 20`, 40` and 45`.

Capacity of Spreader

t

30.5

35

40.5

50

Working Duty

A6

A6

A6

A6

Span

m

35

35

35

35

Base

m

16

16

16

16

Lifting Height

m

15.4

15.4

18.2

18.2

Speed

Hoisting

With full load

m/min

12

12

18

18

Only with spreader

24

24

36

36

Traverse

60

60

70

70

Traveling

45

45

45

45

Total Power

KW

~200

~230

~255

~300

Max. Working Load of Wheel

KN

260

260

280

300

Crane Rail

P50

P50

P50

QU80

Power Supply

Three Phases, 380V/50HZ or as required

Kindly please provide the following information when sending enquiry to us.

1. Lifting capacity ______ton
2. Span _______meters (it is center to center distance between railways)
3. Lifting height ______meters (it is the distance from center of hook to floor)
4. Travelling length _____meters
5. Is the cantilever needed for the gantry crane? If yes, how long is it? Is it needed for one or two sides?
6. Industrial voltage _____V, _____HZ, 3Phases
7. Control mode
A. pendant control B. remote control C. cabin control
8. Do you also need us to supply rail and bus bar?
A. Yes B. No
9. What is the main lifting material?