Overview:
Similar to the rail tracks used by trains, rail mounted gantry cranes rely on rails for efficient and secure movement in a fixed direction or designated routine. These cranes are primarily used in harbors or ports for the movement and lifting of various types of containers. Given their substantial tonnage, span, and outdoor application, rail gantry cranes demand enhanced safety and stability.
Sinokocranes CE Certified RMG crane consists of four main parts: the bridge structure, the trolley traveling mechanism, crane traveling mechanism and the electric equipment.
1.Overload protection.
2.Main lifting motor with thermal protection.
3.Hooks with latch.
4.Rubber buffers.
5.Protective earthing.
6.Crane switch and travel and end switch
Emergency switch can stop all movement when any dangerous happened.
7.Sub-assemblies characteristics are tested before assembly.
8.All cranes must be pre-assembled and tested before leaving factory and offer the certification of test.
Features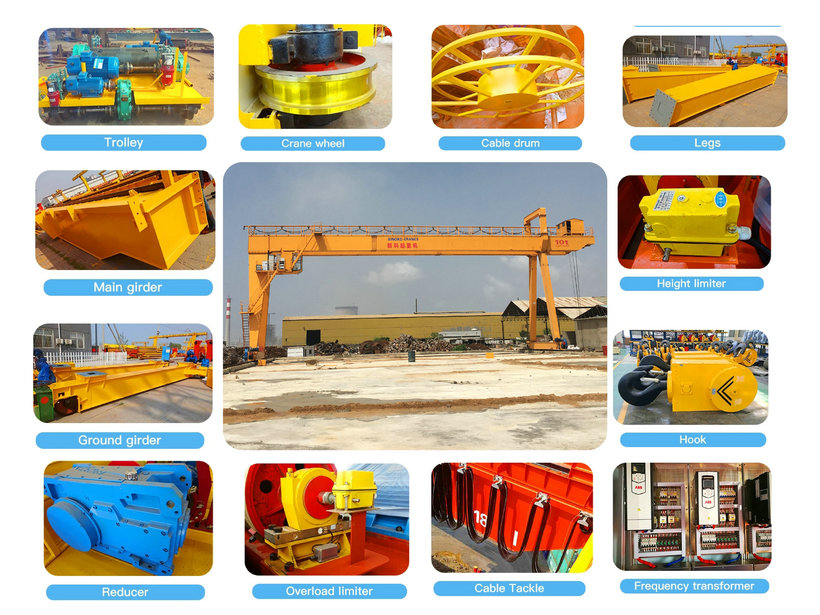 High Safety and Reliability: To ensure the safety of rail mounted gantry crane operators and the crane itself, we equip our rail gantry cranes with practical safety devices. An overload limiter is installed in the monitoring system to warn operators when the load exceeds the crane's capacity. A self-examine system allows for precise and timely testing of all crane components, minimizing the risk of accidents. Up and low limit switches cut off the electric power when the hook reaches its limits, and double restrictions prevent the hook from reaching the top of the gantry crane. Additionally, we use heavy-duty wire rope imported from Germany, with a safety factor of five in every rail mounted gantry crane for sale.
High-Quality Components: Our rail gantry cranes boast high-standard components. The motors are imported from Germany, featuring IP54 protection level, F insulation grade, and overheat protection capabilities. The gantry cranes are equipped with aluminum insulation to effectively dissipate heat. The high-quality reduction drive eliminates oil leakage and increases lifting capacity. The tires are forged from 65mn steel, offering exceptional abrasion resistance and long working life for cost-effective rail mounted container gantry cranes.
Modular Design: Modular design brings numerous advantages to rail mounted gantry crane manufacturing. It allows for a wider range of product options, easier installation and transportation, ensures product quality stability, and shortens the supply cycle.
Enhanced Security Features: Our double-end rail mounted gantry cranes incorporate advanced safety protection measures. These include an overload limiter monitoring system, a self-examine system, limit switches, and imported wire rope from Germany, ensuring the highest level of safety.
Specification
Lifting Capacity
t
5
10
16
20
32
Span
m
10-40
Hoisting Speed
m/min
12.9
10.6
10.7
9.7
9.7
Cross Travel Speed
38
36.5
36.5
36.5
36.5
Long Travel Speed
72
72
72
72
72
Control Model
Cabin operated through master controllers
Working Class
ISO M5-M7
Steel Track
P38
P43
P43
QU70
QU70/80
At Sinokocranes, we specialize in providing high-quality and reliable lifting solutions. Our Rail Mounted Gantry Crane is designed to meet the specific requirements of container handling in port and intermodal environments. Choose Sinokocranes for superior performance, durability, and excellent customer service.
Please give us folloing information about the crane you need so we can quote you our best proposal and price!
| | | |
| --- | --- | --- |
| Load Capacity, ton: | (_______) | {Tips: 5 ton, 10 ton, 16 ton, 20 ton, 30 ton, 40 ton, 50 ton up to 550 ton} |
| Span, S, m: | (_______) | {Tips: 6m ~40m} |
| Lift Height, H, m: | (_______) | |
| Voltage: | (_______) | {Tips: 380V, 50Hz, AC, 3-phase or please note} |
| Duty Class: | (_______) | {Tips: A5, A3, If you don't know, please fill the follow} |
| Hours per day: | (_______) | One, two or three work shifts per day |
| Control way: | (_______) | {Tips: Remote control, cabin control or pendent control } |
| Lift Speed: | (_______) | {Tips: Single speed, double speed, or stepless speed} |
| Cross & Long travel speed: | (_______) | {Tips: Single speed or stepless speed} |
| Rail supply needed | (_______) | {Tips: If yes, please note the Long travel length or the bay length} |
| Power supply system needed | (_______) | {Tips: If yes, please note the Long travel length} |
| Your nearest port: | (_______) | {Tips: We quote CIF price need the port. FOB price please note FOB} |