Overview:
Gantry crane is mainly used for the loading and unloading in freight yards, yard goods, and bulk cargoes. Its metal structure is like a gantry frame, carrying two feet under the main beam, and can directly walk on the track of the ground. Both ends of the main beam can have an outrigger cantilever beam. Gantry cranes have the characteristics of high site utilization, large operating range, wide adaptation, and versatility. They are widely used in port cargo yards.
Features
● Large lifting capacity, low headroom, small wheel pressure, stable operation;
● Accurate positioning, efficient operation, improve logistics efficiency;
● Fast positioning, ergonomic design, comfortable operation;
● Safe and reliable, operation monitoring, easy maintenance;
● The product undergoes rigorous testing, long service life, and low maintenance;
● Modular design, low maintenance cost;
● Safe and reliable, increase production efficiency, and create greater benefits;
● The electrical device has the wrong phase and phase loss protection function. The AC contactor adopts Schneider imported from Germany. The reaction is sensitive, precise, and the service life is long. The electrical performance is outstanding.
● European design, the factory is more beautiful, and the workers are more comfortable in operation;
● No need to change the structure of the plant to meet the logistics needs.
Specification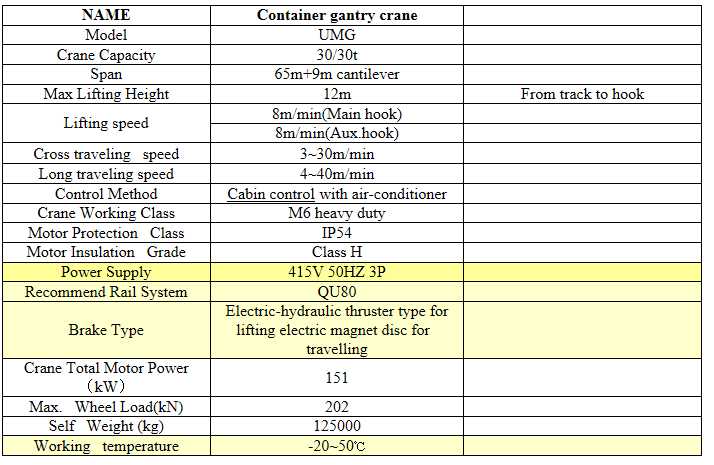 Note:
1. The following main parameters of the crane should be determined before ordering:
(1)lifting weight (2)span (3)lifting height (4)vertical height of the load beam to the ground (5)the length of the track.
2. When ordering, it must be confirmed that the conductive forms of the cart are the trolley wire, the power supply position, and the control method. For example, the walking form is a trolley line, the power supply position is at the end of the workshop, and the operation form is ground operation.