Overview: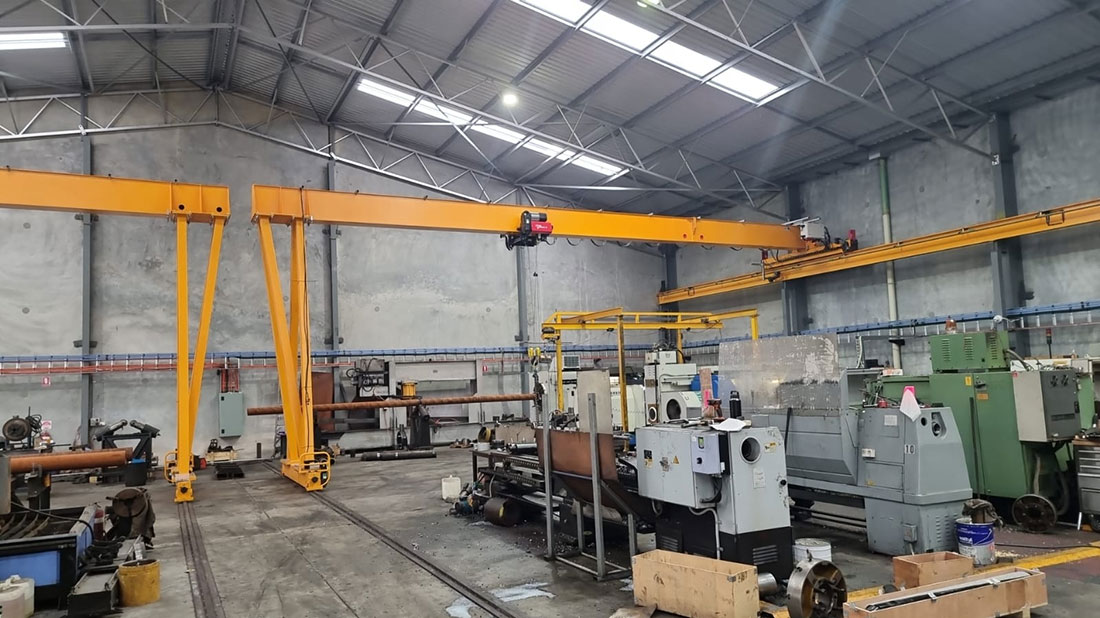 Semi-gantry Crane has a special design structure to suit various crane work situations. It can be single girder and double girder, the two ends connections are different, one side is connected and supported by the crane gantry leg travel on the ground mounted rails, another side is connected and supported by an end carriage travel on the overhead track.
Features
Stepless control.
Harden gear.
Protection class IP55.
Heavy duty motor, 60%ED rating.
Electromagnetic disk brake,dust proof.
No oil leakage,self-adjustable brake.
Heavy duty galvanized wire rope.
Outperforming reliability designing.
Smaller size,lighter wheel load.
Specification
| | |
| --- | --- |
| SWL(t) | 0.5t-80t |
| HOL(m) | 0m-90m |
| Work Duty | M4-M6 |
Note:
1. The following main parameters of the crane should be determined before ordering:
(1)lifting weight (2)span (3)lifting height (4)vertical height of the load beam to the ground (5)the length of the track.
2. When ordering, it must be confirmed that the conductive forms of the cart are the trolley wire, the power supply position, and the control method. For example, the walking form is a trolley line, the power supply position is at the end of the workshop, and the operation form is ground operation.
Unlock the efficiency and versatility of the single leg gantry crane for your lifting needs. Contact us today to discuss your requirements and let our experts provide you with a tailored solution that optimizes your material handling operations. Improve productivity and streamline your workflow with the reliable single leg gantry crane.
FAQs
Q1. What are the advantages of a single leg gantry crane over traditional cranes?
A1. The single leg gantry crane provides portability, flexibility, and a compact design, allowing it to be easily moved and used in different locations without the need for permanent installation.
Q2. Can the lifting capacity of the crane be customized?
A2. Yes, the lifting capacity of the single leg gantry crane can be customized according to your specific requirements, ensuring it meets your unique lifting needs.
Q3. Is the crane suitable for outdoor use?
A3. Yes, the single leg gantry crane is designed for both indoor and outdoor applications. Its sturdy construction and weather-resistant materials make it suitable for various environmental conditions.