Overview:
1. a unique magnetic circuit design, use of aluminum coil, coil plates used to protect the good wear resistance of high manganese boards, light forces, the lifting capacity.

2. the structure is simple, safe, reliable, applicable to all types of lifting equipment.
3. with the exception of the use of voltage, but also a strong exciting way. Can improve the lifting capacity and increase economic efficiency.
4. applicable to the removal of cast iron ingots, Steel Ball into all kind of scrap.
Scrap Metal Magnet Show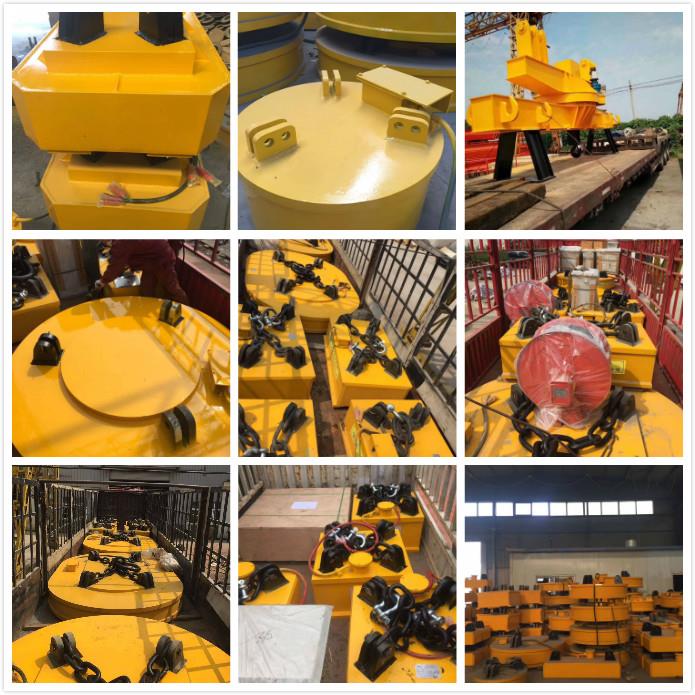 Due to the strong and deep penetration of magnetic force, scrap magnets are suitable for sorting out cast ingot, steel ball, pig iron, machine chips, for various kinds of steel scraps, return scraps, cropping, baling scraps and etc in junkyards, foundry factories and for iron powder in coal washery.
Features
1. It adopts a special magnetic circuit design which has large air space and magnetism density. It is made of aluminum wire and the coil protection plate is made of the rolled high Mn steel plate that has good performance of wear-resistance and heat-proof. It also has the characteristics oflight weight, low power consumption, high lifting capacity and long serving life.
2. this series has fine insulation structure. the insulation treatments adopt the vacuum drying & glue filling, which has improved the electrical and mechanical performance of the coils. the insulation grade can reach class special C.
3. It generally adopts the control mode of constant voltage. It can further improve the lifting capacity if changing to adopt the control mode of over excitation.
4. with simple structure reliability, it is suitable for working with all kinds of lifting equipments.
Specification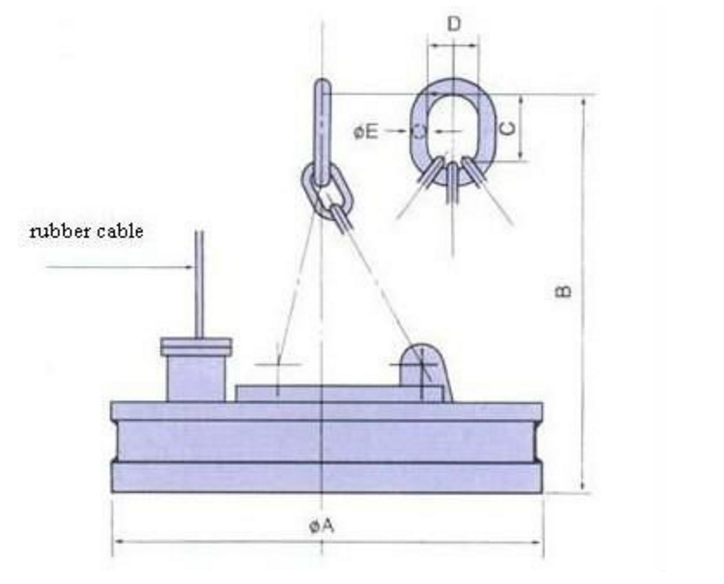 Model
Lifting capacity (kg)
(cold/hot state)
Steel ball
Steel ingot
turnings
MW5-50L/1
1200
220/130
80/65
MW5-60L/1
2000
290/170
95/80
MW5-70L/1
2500
380/200
120/100
MW5-80L/1
3000
480/250
150/130
MW5-90L/1
4500
600/400
250/200
MW5-110L/1
6500
1000/800
450/400
MW5-120L/1
7500
1300/1000
650/500
MW5-130L/1
8500
1400/1100
700/600
MW5-150L/1
11000
1900/1500
1100/900
MW5-165L/1
12500
2300/1800
1300/1100
MW5-180L/1
14500
2750/1100
1600/1350
MW5-210L/1
21000
3500/2800
2200/1850
MW5-240L/1
26000
4800/3800
2850/2250
MW5-260L/1
30000
6100/4900
3600/3850
MW5-280L/1
34000
7100/5700
4450/3400
MW5-300L/1
39000
8350/6700
5150/4100
Scrap Metal Magnet Packaging & Delivery

Packaging Details:
Pack each window with aluminum foil band and PVC film to protect against scratches.
2. Use wood pallet and frames to fix the windows to avoid collision or shaking.
3. Use packing strap to fasten the pallets.
4. Load the pallets with forklifts. Put airbags between pallets to avoid collision.
Delivery Detail:
Shipped in 30 days after payment
FAQ
Q: Do you provide design solutions and drawings?
A: Yes. We will give you design suggestions and we can make CAD drawings as your request.
Q: Can you provide samples?
A: Yes. We can make customized samples to you for quality checking and design confirmation.
Q: Can I get installation instructions?
A: Yes. We provide installation instruction manuals or videos.
Q: What is the lead time?
A: 30-45 days after payment and production drawing confirmation. that depends on the quantity and window type.
Q: What is your MOQ?
A: Normally the MOQ is 50m2. under certain circumstances even 1 piece is acceptable. Please consult with our sales for details.
Q: What is your payment term?
A: 50% by TT as deposit for production, 50% by T/T against B/L copy.
Q: Do you accept Credit Card, L/C, D/P and D/A.
A: We think TT is the best. It is safe, fast and the bank charge is relatively lower. We accept other payment methods in some circumstances. Please check it with our sales.
Q: What is the shipping port?
A: Usually we ship from Qingdao port. If you want to ship from another port we can coordinate with you.