Overview:
Double Girder EOT (Electric Overhead Traveling) Crane is a type of crane that has two parallel bridge girders supported by end trucks. The end trucks are equipped with wheels that run on a runway beam, allowing the crane to move along the length of the runway. The double girder design provides greater stability and lifting capacity compared to a single girder crane.
Double girder EOT cranes are commonly used in manufacturing and heavy industrial applications, such as steel plants, power plants, and shipyards. They can be customized to suit specific requirements, including load capacity, span, lifting height, and speed.
1. Structure: It consists of hoisting mechanism, double main beam, end quantity, electronic control system, etc. It has low height, small size, light weight and small wheel pressure.

2. Drive unit: squirrel cage motor (60% ED) and hardened gear reducer (JRC60) and self-adjusting disc brake, maintenance-free
3. Operation mode: wired operation, wireless remote control, cab (space capsule design, beautiful, novel, optional air conditioning)
4. Protection grade IP55, F-class insulation, high-strength galvanized steel wire rope, large and small car frequency control, stable operation, anti-sway optimization design.
Features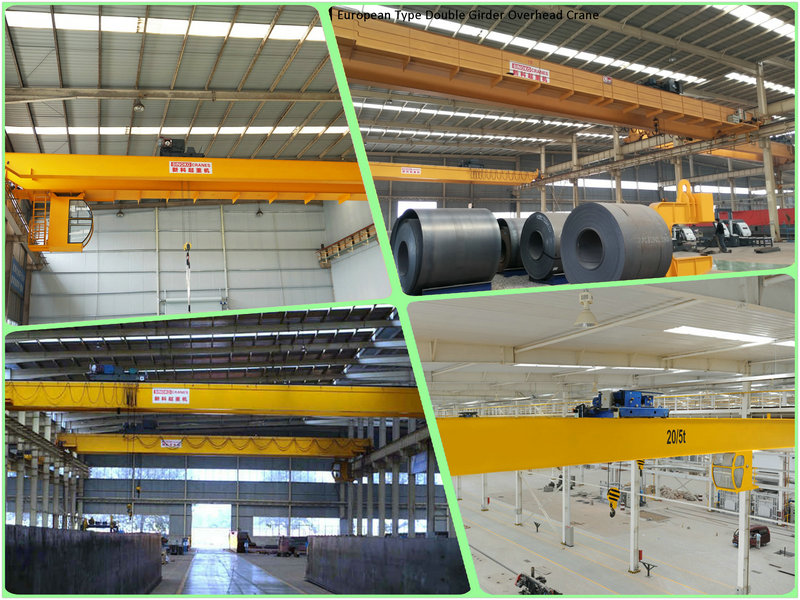 Greater hook height: Because double girder EOT cranes are designed with two girders, they typically offer a greater lifting height than single girder cranes. This can be especially important in industrial applications where lifting loads to significant heights is required.

No limits to maximum span or capacity: Double girder EOT cranes can be designed and manufactured to meet a wide range of capacity and span requirements. This means that they can be used for both small and large-scale operations, making them a versatile option for many different industries.
Indoor and outdoor applications: Double girder EOT cranes can be used in a variety of environments, both indoors and outdoors. This makes them well-suited for applications in mining, iron and steel, railyards, ports, and other heavy industrial settings.
Ideal for frequent lifting of heavy loads: Double girder EOT cranes are designed to handle heavy loads on a regular basis. This makes them a great choice for industries that require frequent lifting of heavy equipment or materials, such as in production or transportation operations.