Overview:
General technical requirements for High Temperature Casting Ladle Crane: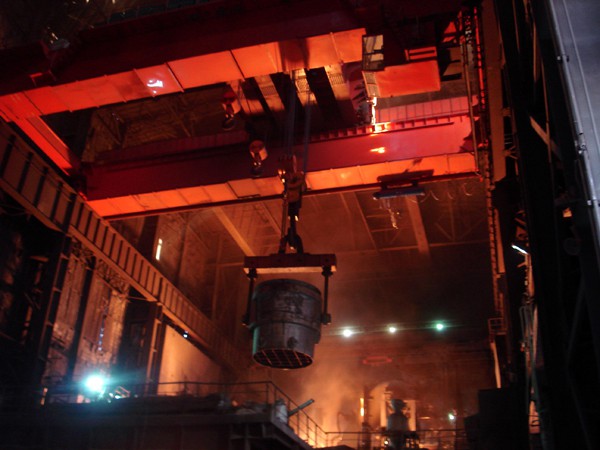 1. When the temperature of air medium around the motor exceeds 40°C and is less than 60°C, H-grade insulation high-temperature motor should be selected;

2. The main and auxiliary lifting mechanisms are double brakes; the propeller should adopt Ed type;

3. The main and sub hooks must be equipped with overload limiters, and some are equipped with electronic scales at the fixed pulleys.

4. Equipped with different types of ascending double limit switches (usually hammer type and rotary type), and should control different loops (that is, the two limits are not in series with the regular phase), and the lifting height is greater than 20m , should also set down limit switch;

5. Use thyristor stator voltage regulator, eddy current brake, energy consumption brake, SCR power supply, DC power supply speed regulation and other hoisting mechanisms that may cause overspeed due to speed regulation and more than 20t for lifting molten metal Bridge cranes must have overspeed protection;

6. The hoisting mechanism should have the functions of forward and reverse contactor fault protection to prevent the motor from losing power while the brake is still on and cause the stall to occur. (The main cause of the falling event in Liaoning Tieling)

7. The degree of protection of all electrical equipment should meet the requirements of the relevant standards;

8. Lifting appliances that work in high temperature environment for a long time need protective measures for their electronic control equipment;

9. Select the wire rope suitable for high temperature applications, and have a sufficient safety factor, generally using steel core;

10. Do not use cast iron pulleys, generally cast steel or rolled; (because cast iron is easy to lose the block)

11. The driver's cabin and angle steel slide are generally on the same side, and some require a protective net; some of the door opening direction is a top entry from the end-beam into the person, and the driver's outdoor platform does not need a railing door;

12. Insulated asbestos or insulation board under the main beam; spring buffer shall be adopted, and the center height of the vehicle and the height of both sides shall be the same;

13. The trolley cable should be directly baked and protected against high temperature flame-retardant cables.

14. The driver's room is double-insulated and has internal industrial cooling fans (ie industrial air-conditioning);

15. The center distance of the main and auxiliary hooks is increased according to the ladle, and the ropes are wiped off the small frame when the hooks are dropped into the ladle and the steel ladle when the hooks are hooked off; the weight matching of the auxiliary hooks is correspondingly increased.