Overview:
The configurations are very advanced, such as Schneider electrical, ABM/Nord / SEW triple gear motor (three in one: motor, gear box, brake), galvanized high strength wire rope, self-adjusted disk brake, hard tooth reducer, programmable lifting limit switch, and so on.

Features
1.Mechanical feature
1) Double welding box girder, DIN/FEM standard deflection
2) Material Fe37 or Fe52
3) Whole length CNC cutting for complete web plate, high deflection accuracy
4) High quality automatic welding and NDT inspection
5) Shot-blasting Sa2.5 for complete girder after welding, stress release
6) Compacted gear motor driving, stepless control, harden gear, safety disc brake
7) High protection class IP55, F class, 40% ED
8) 10.9 class High tension bolts mounting between girder and legs, life time safety connection
9) Shot-blasting Sa2.5 for complete girder after welding, stress release
2.Electrification and outfitting:
1) Conduct power supply
2) Phase control guard opens the main contractor in case of phase failure
3) The flat cables used for festoons are PVC insulated flexible flat cables rated for 450/750V, specially designed for cranes, hoists.
4) clean and smooth flat cable power supply system
5) Cables are coded either with numbers, colors or tags for easy identification.
6) All hoist and crane movements are independent and can be run simultaneously.
7) The control panels are finished to withstand corrosion, IP55
8) The components are positioned in a maintenance friendly way, and the whole layout provides good protection against accidental contact.
9) The multi-wire type fixed cables with plastic insulation are intended for crane usage.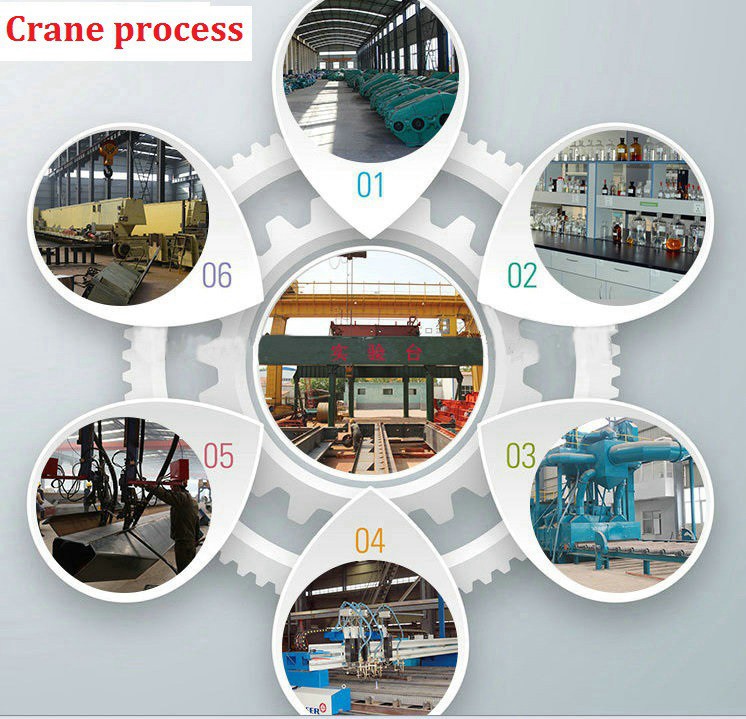 Specification
Kindly please provide the following information when sending enquiry to us.
1. Lifting capacity ______ton
2. Span _______meters (it is center to center distance between railways)
3. Lifting height ______meters (it is the distance from center of hook to floor)
4. Travelling length _____meters
5. Industrial voltage _____V, _____HZ, 3Phases
6. Control mode
A. pendant control B. remote control C. cabin control
7. Do you also need us to supply rail and bus bar?
A. Yes B. No
8. What is the main lifting material?