Overview: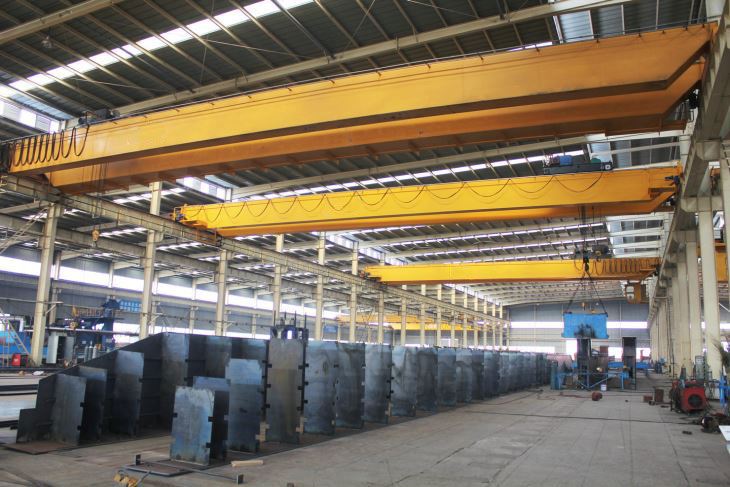 100 ton heavy duty double beam girder overhead crane manufacturers is an advanced overhead crane;
developed independently and in line with market demand. This 100 ton heavy duty double beam girder overhead crane manufacturers crane designed and manufactured in accordance with European FEM standards, as well as developed on the base of traditional crane.
Sinokocranes can provide overhead crane products to our customers in a short period of time, because we have our own overhead crane factory, 15 years of work experience and friendly cooperation with domestic logistics, while guaranteeing the quality of the products, it is sold at the ex-factory price without additional cost, if you customize in batches, our prices will be more favorable.
Features
1. High efficiency with smooth and silent running.
2. Suitable for high lifting capacities and heavy duty class
3. Minimum investment requirements for maximum space optimization
4. Safe and smooth running with safety accessories
5. Low noise, commodious cabin and good view space
6. Maintenance-free for lifting mechanism and excellent changeability for spare parts
7. Suitable for industry power supply around the world
8. Precise and experienced designing to save each coin for clients
9. Overloading, over-volt, over-current protections included to ensure 100% safety
10. Accurate designing and advanced device to guarantee synchronous running in each side
Specification
| | |
| --- | --- |
| Model | CXTS |
| Conditon | New |
| Type | Electric Winch Trolley |
| Load capacity | 100t |
| Span | 7-30m |
| Lifting height | 7.5-25m |
| Lifting speed | 8/0.8 m/min |
| Cross travel speed | 0-20 m/min(VVVF) |
| Long travel speed | 0-30 m/min(VVVF) |
| Work duty | A3-A8 |
| Control | Remote, Pendant push button, Cabin |
| Voltage | 380V/400V/450V, 50Hz/60Hz, 3Phase or customized |
| Electric parts | Schneider or customized |
FAQs
What is the primary function of a 100 ton overhead crane?
The primary function of a 100 ton overhead crane is to lift, move, and position heavy loads up to 100 tons in various industrial settings.
What are the key factors to consider when purchasing a 100 ton overhead crane?
Key factors include load capacity requirements, available space, power source, and safety features.
What industries typically use 100 ton overhead cranes?
These cranes are typically used in industries such as construction, shipping, and manufacturing, where heavy lifting is a routine task.
Why is maintenance crucial for a 100 ton overhead crane?
Regular maintenance ensures the longevity and safety of the crane. It includes routine inspections, timely repairs, and operator training to prevent accidents and breakdowns.