Overview:
- Overload Limiter, Limit Switch (Lifting and Traveling), Interlock protection device, Buffer, Rail clear plate,
Protective cover, Bus Bar preventer plate, Anti-collision device, Light alarm devices Main isolating switch,
Emergency stop system, Motor overload protection
-equipped with rainproof devices for lifting mechanism, electrical control box.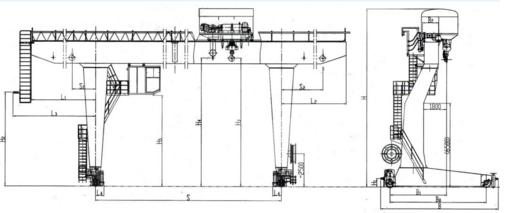 Features
Pre-sale service:
Customer can obtain consultation and communicate with us through network platform, telephone,
E-mail and MSN and etc. We provide technical matters as well as product knowledge and information
concerned with products. We can provide premium, effective and reliable solutions and quotations according
to customers' requirements and budgets. We also provide customer-case visiting to understand utilizations of
our products at site. We warmly welcome customers to visit our factory prior to placing an order.
The Sale of service:
We have always designed products stringently according to contracts and customers' requirements.
We have always manufactured stringently according to ISO 9001 quality management system. We have
always strictly inspected each component of each product to ensure product quality.
After-sale service:
After-sale service department consists of well-trained technical personnel and installation engineers.
Our professional technical personnel can provide installation guidance, device debugging and operation
training at site or through remote operation. Routine maintenance information is accessible.