Overview:
EOT (Electric Overhead Traveling) Cranes are critical equipment in the material handling sector, particularly in manufacturing and construction industries. They move along a horizontal beam, effortlessly lifting, moving, and lowering hefty loads.
Sinoko single girder overhead cranes have such design concepts as small dimension, light weight, energy-conservation and environment protection. Compared with traditional cranes, the limiting distance is minimum from hook to wall, and headroom is the lowest, which makes cranes work more close to the front, and lifting height higher that increases effective working space of workplace.

European Standard Single Girder EOT Cranes Detailed
European Single Girder Overhead Crane is mainly composed of main bridge, electric hoist, crane traveling mechanism, electrical control system and other components.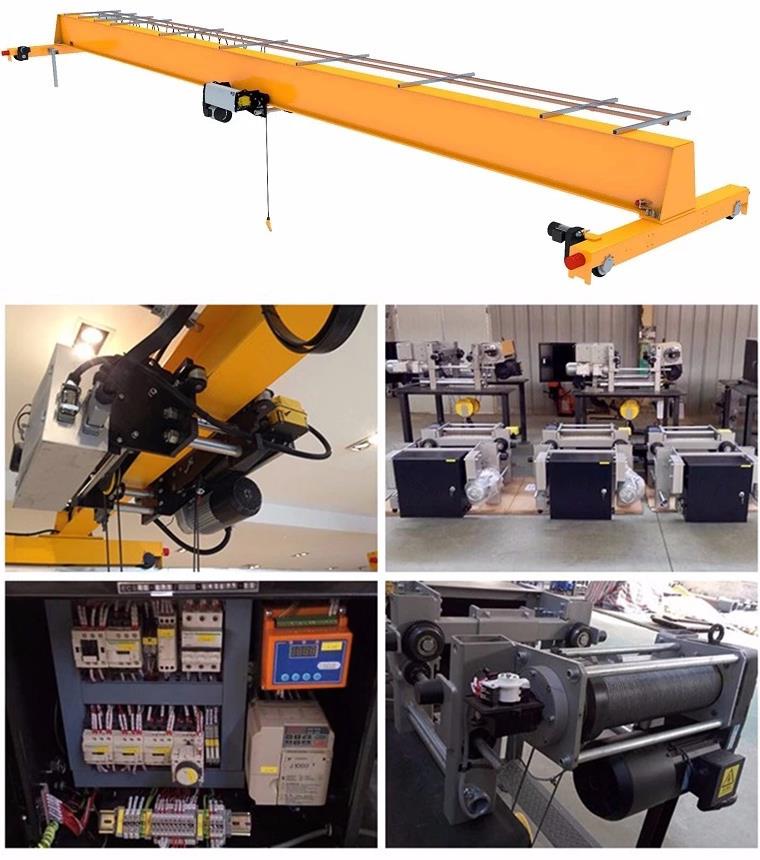 Features
Cost-effectiveness
Single Girder EOT Cranes are more affordable compared to their double girder counterparts. They require fewer materials and simpler mechanisms, reducing initial investment and operating costs.
Flexibility and Versatility
These cranes are adaptable, suitable for most indoor applications. Their streamlined design allows operations even in areas with limited space.
Easy Maintenance and Operation
With fewer components and a simple design.
Specification
Capacity
(t)

Span
(m)

Liftingheight
(m)

Workingclass

Liftingspeed
(m/min)

Crosstravelling
(m/min)

1

7.5-22.5

6.9.12

FEM2M

5/0.8

2-20(VFD)

2

7.5-22.5

6.9.12

FEM2M

5/0.8

2-20(VFD)

3.2

7.5-22.5

6.9.12

FEM2M

5/0.8

2-20(VFD)

5

7.5-22.5

6.9.12

FEM2M

5/0.8

2-20(VFD)

10

7.5-22.5

6.9.12

FEM2M

5/0.8

2-20(VFD)

12.5

7.5-22.5

6.9.12

FEM2M

5/0.8

2-20(VFD)
FAQs
1.What is the lifting capacity of a Single Girder EOT Crane?
The lifting capacity varies widely depending on the crane's design, but it generally ranges from 1 to 20 tons.
2.What is the difference between a Single Girder and a Double Girder EOT Crane?
Single Girder EOT Cranes have one main beam and are typically used for lighter loads and shorter spans. Double Girder Cranes, with two main beams, are used for heavier loads and longer spans.
3.Is special training required to operate a Single Girder EOT Crane?
While these cranes are relatively simple to operate, specific training is necessary to ensure safe and efficient operation.
4.What are the safety features to look for in a Single Girder EOT Crane?
Safety features to consider include overload protection, emergency stop systems, and anti-collision devices.