Overview:
Electric gantry crane with electric hoist is composed of bridge, support legs, crane traveling organ, electric equipment, strong lifting winch, the frame adopts boxed-type welding mechanism, crane traveling mechanisms are operated in the driver cabin or remote control, Power is supplied by cable or slide wire.
The Sinoko electric hoist gantry crane offers two design types, MH and L type, allowing you to choose the appropriate gantry crane based on your specific site requirements.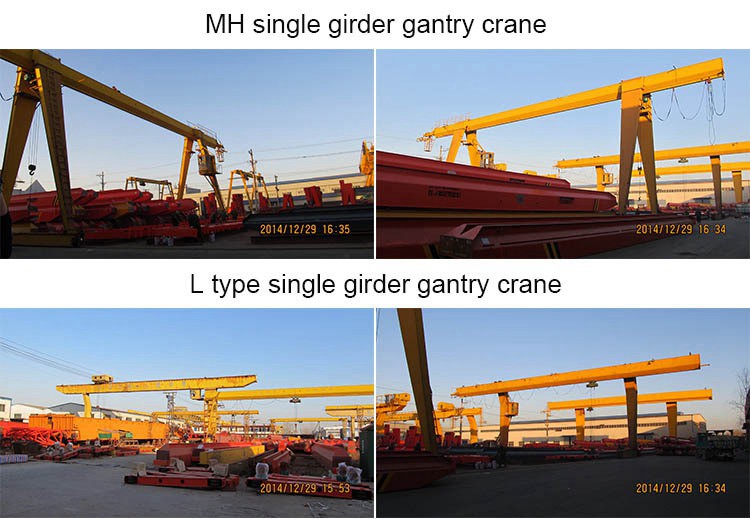 L Type Electric Hoist Gantry Crane
This design is suitable for outdoor yards and along railway lines for general loading, unloading, and lifting operations.


The L type design features a lower overall height while maintaining a certain lifting height, resulting in cost savings.

Lightweight, Low Wheel Pressure, and Reliable Performance
MH Type Electric Hoist Gantry Crane
This crane is designed to work with CD1, MD1, and HC type electric hoists. It is a small and lightweight crane that operates on rails. It is suitable for lifting loads ranging from 5 to 20 tons, with spans ranging from 5 to 35 meters. The operating temperature ranges from -20°C to +40°C.
Features
Robust Construction: The Gantry Crane with Electric Hoist is built with high-quality materials and components to ensure durability and long-lasting performance. It can handle heavy loads with ease, providing reliable lifting capabilities.
Electric Hoist: The electric hoist attached to the gantry crane offers precise and controlled lifting. It provides smooth and efficient vertical movement, allowing for accurate positioning of loads.
Customizable Design: We offer customizable options to tailor the Gantry Crane with Electric Hoist to your specific requirements. Whether you need specific lifting capacities, spans, or control systems, our team can design a solution that meets your needs.
Easy Operation: The crane is designed for ease of use, with user-friendly controls and intuitive operation. The operator can efficiently control the lifting and movement of loads, ensuring smooth and precise material handling.
Safety Features: Safety is of utmost importance in crane operations. The Gantry Crane with Electric Hoist incorporates safety features such as overload protection, emergency stop buttons, limit switches, current overload protection system, voltage lower protection function, Top quality long time bearing polyurethane materials buffer, and safety hooks, ensuring safe and secure lifting operations.
Specification
Lifting weight

ton

3~20

Span

m

12~30

Lifting height

m

6/9

Working
parts

Travelling
speed

Ground

m/min

20

Cabin

20/30/45

Motor

Ground




YSE802-4/0.8*2

YSE90L-4/1.5*2

Cabin




ZDR100-4/1.5*2

ZDR112L1-4/2.1*2

Reducer




Ld

Wheeldia.

mm

Φ270

Electric
hoist

Type




CD1 MD1

Lifting speed

m/min

80.8/8

Travelling speed

20

Motor

Lifting




ZD41-4/4.5 ZDS10.4/4.5

Travelling




ZDY12-4/0.4

Working class




A3

Steel trackre commended




P24 P38

Power




380v 50Hz

The crane weight

Ground

kg

6646/8646

7630/9430

10163/12163

11931/13931

Cabin

kg

6996/8996

7780/9780

10513/12513

12281/14281

Max.Wheel pressure

KN

37/42

40/46

44/50

48/54
Electric Hoist Gantry Crane Application
Sinoko Electric Hoist Gantry Crane with MH and L type designs has various applications in different industries and work environments. Here are some common applications: Outdoor Yards and Freight Terminals, Construction Sites, Manufacturing and Industrial Facilities, Warehouses and Distribution Centers, Port and Shipyard Operations, Power Plants and Heavy Machinery Handling, and so on. These are just a few examples of the applications of Sinoko Electric Hoist Gantry Crane. Its versatility and flexibility make it suitable for various industries where efficient and reliable lifting and material handling are essential.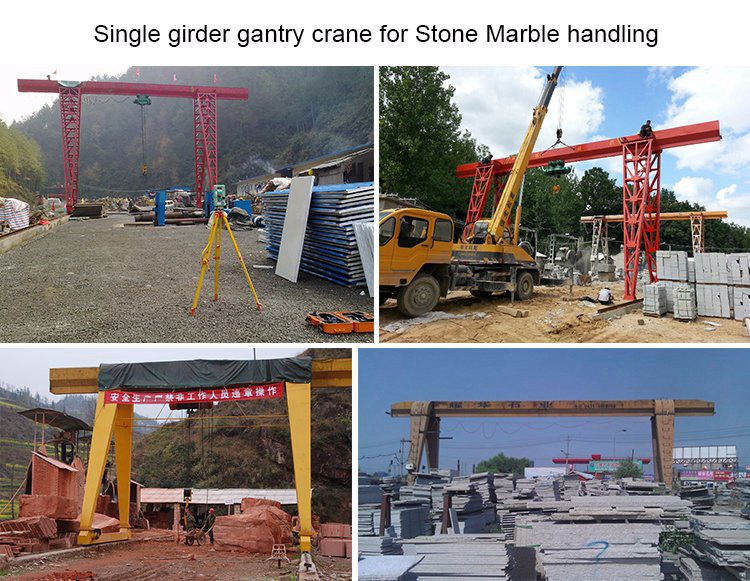 Optimize your material handling operations with the reliable Gantry Crane with Electric Hoist. Experience robust construction, precise lifting, and easy operation. Contact us today to learn more about this crane and how it can enhance your lifting capabilities!
Thanks for checking and kindly please tell the main datas.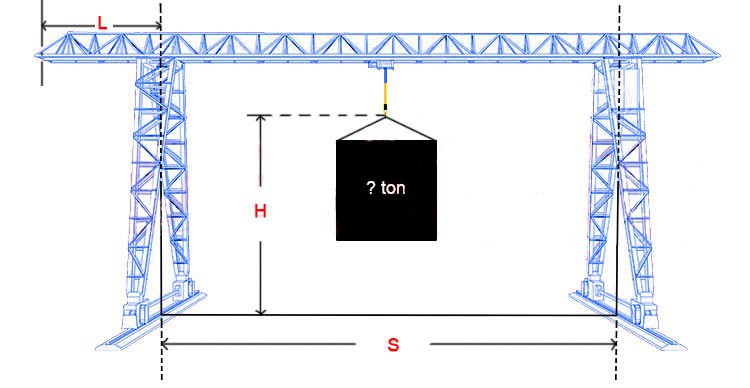 1. Load capacity: ?
2. Span: ?
3. Lift height: ?
4. Power Voltage: ?
4. Cantilever Length: ?
5. Speed Request:?
6. Control Mode Request: ?