Overview:
Double Girder Mobile Gantry Crane China Introduction:
1. This gantry crane is widely used together with winch or trolley for lifting device.
2. It is a medium and heavy size crane which travels in track.
3. Structure: main beam, support legs, crane traveling organ, trolley, electric equipment, strong lifting winch
4. Power is supplied by cable or slide wire.
5. It is prohibited for lifting melt metal, flammable, explosive, corrosion, overloading, dust and other dangerous operations.

Application: workshop, storage, port and hydroelectric power station and some other outdoor place, where it has a high frequency or more lifting times.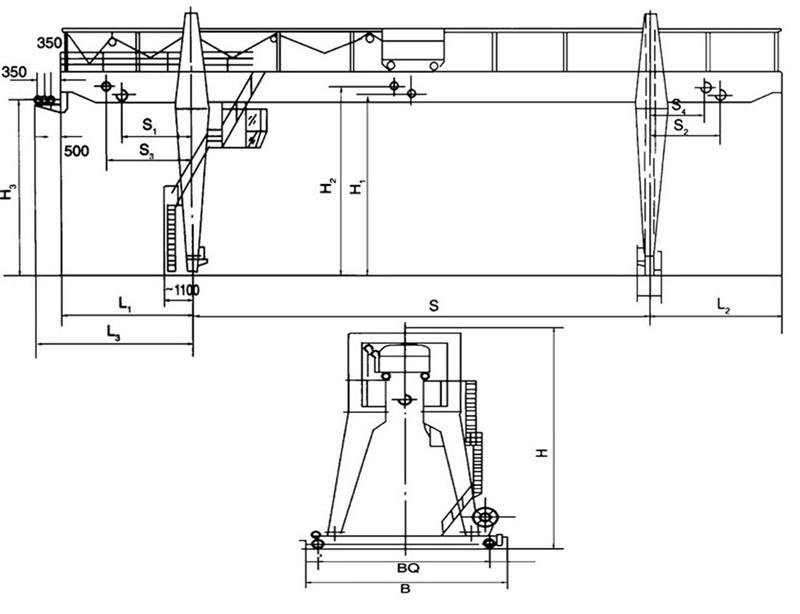 Features
Double Girder Mobile Gantry Crane China Specification:

1. Capacity: 5 to 80tons
2. Span: 18 to 40 meters.
3. Working class: A5, A6, A7.
4. Working temperature is -20--+40 centigrade.
5. Control methods: ground or cabin control.

Double Girder Mobile Gantry Crane China Environmental Conditions:

1.The temperature in the working environment should be in the scope of -20DC to 45 DC and the relative humidity is not higher than 95%(with dew).
2.During work, the wind speed should be no higher than 20m/s; and during non-work, the wind speed should be no higher than 44m/s.
3.The crane travelling lane is supposed not to slope more than 1% and no more than 3% for local slope. The ground slope on the two sides of the span should be in the same direction, that is to say, both up slope or down slope at the same time.
Specification

Technical Parameter for double girder Mobile Gantry Crane China

Lifting Capacity

T

16/3.2

20/5.0

32/8.0

50/10.0

75/20.0

Span

M

18-35

Max. Lifting Height

Main hook

M

10/12

Aux hook

10.6-12.6

10.6-12.6

10.7-12.7

11.1-13.1

11.1-13.1

Working System

A5

Speed

Hoisting

Main

m/min

15.3

15

13.2

5.9

6.25

Aux

22

19

17

13.2

9.28

Trolley Travelling

44.7

44.7

38.6

36

38.9

Crane Travelling

30-35

34.5-32.9

52.53

45-38.6

38.5-32.6

Weight

Trolley

t

7.1

8.1

11.7

16.8

29.4

Total Weight

92-142

105-148

92-142

111-156

189-245

Max. Wheel Load

275-369

341-435

275-369

392-483

314-361

Kindly please provide the following information when sending enquiry to us.

1. Lifting capacity ______ton
2. Span _______meters (it is center to center distance between railways)
3. Lifting height ______meters (it is the distance from center of hook to floor)
4. Travelling length _____meters
5. Is the cantilever needed for the gantry crane? If yes, how long is it? Is it needed for one or two sides?
6. Industrial voltage _____V, _____HZ, 3Phases
7. Control mode
A. pendant control B. remote control C. cabin control
8. Do you also need us to supply rail and bus bar?
A. Yes B. No
9. What is the main lifting material?