Overview:
CXTD type Single Girder Bridge Crane is European Model Bridge Crane equipped with SIC brand Wirope Electric Hoist. With Advanced technology, Our European Model Single Girder Bridge Crane could be made from 5 ton,10 ton,15 ton to 20 ton. Smoothly Traveling with inverter Control make sure the Crane more durable, stable operation,low noise and maintenance free.
Details of European Model Single Girder Overhead Bridge Crane: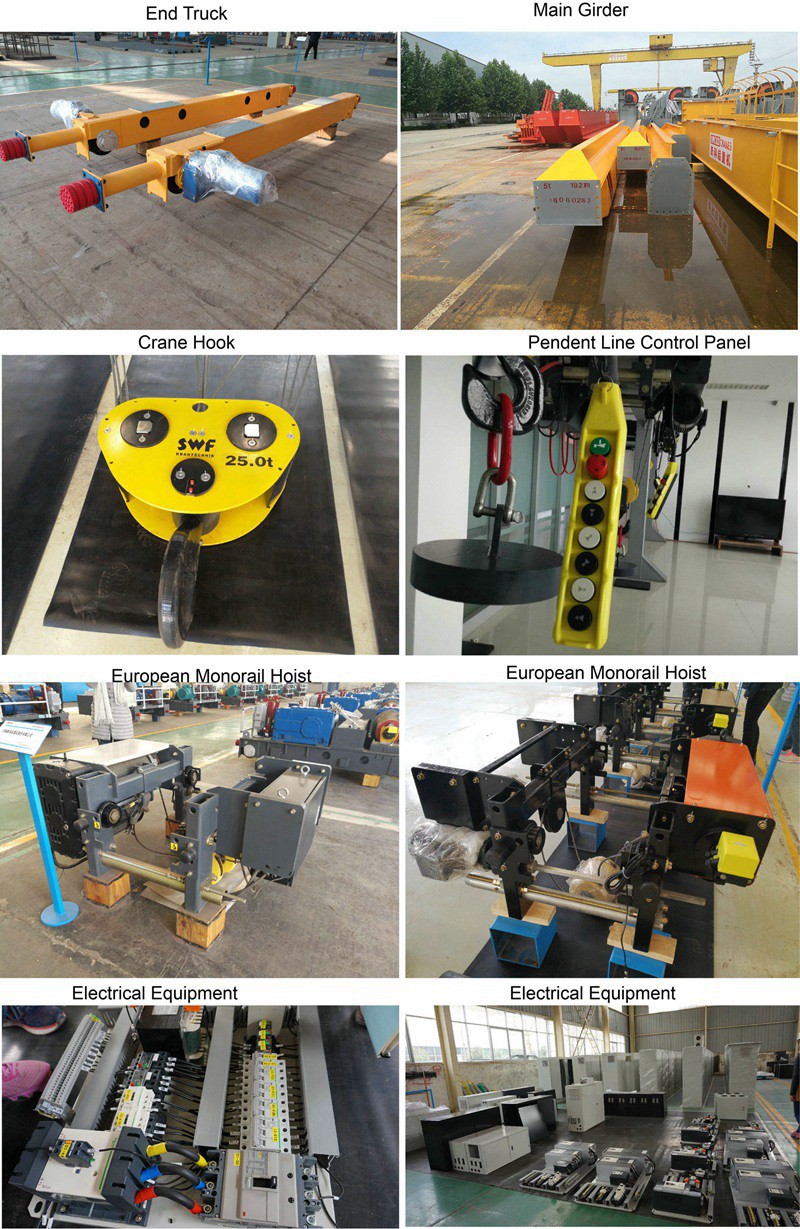 Technology Advantage of European Model Single Beam Overhead Bridge Crane:


Compact Structure: Lifting motor,reducer,cable drum and lifting limit switch are modified as compact integrated structure design, saving the crane space a lot. The modular design not only enhance the mechanism reliability, but also reduce the maintenance time and cost. All hoisting mechanism design are following FEM standard.
Lifting Motor: Germany original dual speed motor, all motors are usingcylindrical rotor. Motor protection grade is IP55. Insulation Grade is F grade. Motor have advantage of fast speed, low noise,long life span,FEM and HMI standard,soft start,quick speed up, low starting current,big torque.
Gear Box: Gear box body use aluminum alloy material, light weight, corrosion resistance. Good full sealed gear box body are full lubricated for all gears, no need to lubricate again during the using life.Hardened and high precision grinding processed gears make sure a long life stable safe operation.
Brake Device: Double disc electromagnetic disc brake are equipped at the motor end. When power is off, the brake will automatically close. Due to the high safety policy requirements, sinokocrane choose brakes whose braking torque are 1.8 times of motor torque.
Rope,Drum,Rope Guide: All of those parts are made from seamless steel pipes manufactured by high precision CNC machine. Rope Tensile Strength is 2160N/mm2 Italy brand rope.
Features
Key Production Process Control of European Type Roof Traveling Bridge Crane:
Welding process: We perform special process control procedures, control strictly in terms of the operating environment, consumables selection, training, and other special operations. The major welds used automatic submerged arc welding process to ensure weld quality and test report issued.
Main girder production: We have three main girder production lines, use automatic hydraulic pressure of the main girder assembly machine Group, to ensure the main girder of the technical requirements. And we use double-sided automatic submerged arc welding process, to ensure the realization Pre-camber.
Crane assembly: We have three assembly lines crane bridge, through the process of process control, machine to achieve quality assurance; through the process flow control, ensure the whole machine quality.
Electrical equipment parts: All wiring of the components in the electric control box have been completed and pre-commissioning by power on test and loading test. Meanwhile, all the wiring are marked by line number ,no falling off; Each line of the sequence is very clear and easy to repair in the future. All external connections of electric control box adopt aviation fast plug, which has the feature in easy plugging, high protection class and long service time; also prevents from electric leakage, shock and other security incidents.
Specification
lifting capacity(T)

1,2,3,5,10T

16,20T

Span(M)

7.5-31.5M

Crane travelling
mechanism

Travelling speed(m/min)

20/30

20/30

Motor

Model

ZDY21-4

ZDY21-4

ZDY122-4

ZDY131S-4

ZDY112L1-4

Power(kw)

2/0.8

2/1.5

1.5/2

2.2/2

2.2/2

Rotation (m/min)

1380

1380

Lifting mechanism

Electric hoist model

CD1/MD1

MD1/HC

(electric hoist)&electric hoist
travelling mechanism



Lifting speed (m/min)

8,8/0.8 7,7/0.7

3.5 3.5/0.35

Lifting height (m)

6 ,9 ,12, 18, 24, 30

12,18,24,30

Travelling speed (m/min)

20(30)

20(30)

Motor

Taper Squirrel-cage type

Taper Squirrel-cage type

Work duty

A3-A5

Power supply

380V 50HZ three phase

Wheel diameter

270mm

370mm

Treadof trail

37-70mm

37-70mm
FAQ: Questions of how to choose one single girder bridge crane:
1. What kind of industry could use our European type single girder bridge crane?
Answer: metallurgicalindustry,machinery manufacturing industry,railway company,subway
company.Automobile company, nonferrous metal industry,Military industry,mining -
industry,power industry etc.
2. How to get one offer of CXTD European Model Workshop Single Girder Bridge Crane
No.

Item

Index




1.

Crane Span

____m?




2.

Crane Capacity

____ton?




3.

Crane Max Lifting Height

____m?




4.

Crane Long Traveling Distance

_____m?




5.

Crane Working Duty

A3--Light Duty

A4,A5---Medium Duty

A6,A7---Heavy Duty

A8----Extream Heavy Duty




6.

Working Voltage




Standard:380V 50HZ 3P

7.

Working Temperature

___℃




8.

Control Method

Cabin Control

Remote Control

Pendent Line Control