Overview: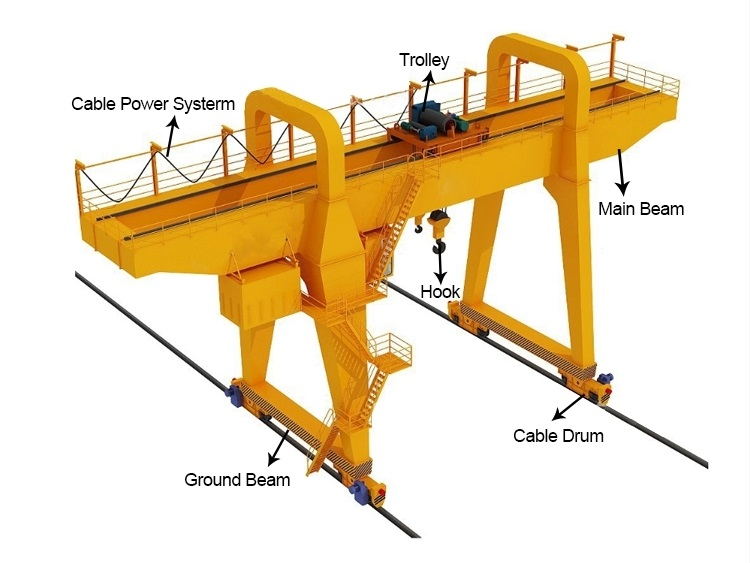 China 10 15 20 30 50 ton double beam gantry crane price (gantry crane also known as goliath crane) is supported on the ground track by two legs of the bridge. In the structure by the door frame, cart operation mechanism, lifting trolley and electrical components. Some gantry cranes only have a leg on one side, the other side of the plant or trestle support in the operation, known as a semi-gantry crane. Gantry crane door frame part of the bridge (including the main beam and end beam), legs, beams and other parts of the lower beam. In order to expand the scope of crane operation, the main beam can extend beyond the supporting legs to one side or both sides to form cantilever. Also can use the lifting trolley with boom, through the boom pitch and rotation to expand the scope of crane operation.
Features
1.Double box beam with steel legs moving through the ground beam as crane travelling system
2.The camber of main beam will be designed as Span*1-1.4/1000.
3.Steel Material: Q235 or Q345
4.Shot-blasting Sa2.5 for main girder and supporting beam
5.Epoxy zinc rich high quality painting.
6.Electrification and outfitting
7.Conductor power supply: Cable Reel or bus bar.
8.Frequency conversion, double speed, single speed, and all hoist and crane movements are independent and can be run simultaneously different design due to meet crane applications
9.Whole layout provides good protection against special working environment. Such as gas workshop, plants, warehouses etc.