Overview:
Double Girder Bridge Crane with Carrier-beam Used in Steel Mill
Double Girder Bridge Crane with Carrier-beam mainly consists of bridge, crane traveling mechanism, trolley, electric equipment and electromagnetic chuck. When used, the rotary part of the hanger of electromagnetic disk must be locked up with screws and no rotation is allowed.
This type crane is heavy duty type with working duty is A6~A7, crane lifting capacity includes the dead weight of magnetic lifters.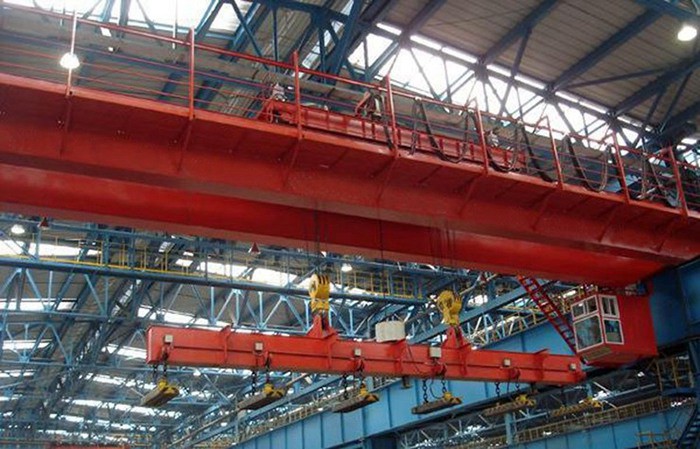 Main Crane Parts Information
The material of steel plate adopts Q235B, if working temperature lower-20
℃
or higher +40
℃
,adopts Q345 steel, all steel plates are under the process of rolling, shot blasting and rust removal, then paint primer.




Trolley

It is the lifting mechanism, lifting good up and down, travelling along the crane girder/ beam from the left side to the right side. It consist of motor, reducer, brake, drum, hook, coupling, hoist structure. We can separately supply electric crab/hoist for clients.

Motor

The slip ring motors are used specially for crane, suitable for frequent starting , reversing & braking in accordance with ISO 9001:2000 ISO 14001:2004. Motors are totally enclosed in dust proof construction foot / flange mounted TESC / TEFC, Sq. cage motors with integrated safety brakes, insulation class F, IP54 protection for hoisting, CT & LT motions.

Gear Box

The entire gear boxes are made of accurate hob cut helical / spur gears & pinions having hardness 250 to 350 BHN made from carbon alloy steel. All gears & pinions running on antifriction type ball/ roller bearings in totally enclosed oil bath giving constant splash lubrication. The helical/Spur gear designed for adequate strength and optimum wear resistance for smooth operation & long life.

Brakes

Independent Hydraulic Brake make the crane much safe and easier to control




Control box & cable

The surface of control box under anticorrosive treatment with reasonable layout and convenient maintenance. All the cables have color, number or with wire marking, which are easy to identify
The jointing part of plug adopts plastic tube with insulation protection.
Trolley traveling mobile power supply system adopts crane special used PVC
flat cable, withstand voltage class can up to 450/750V, equipped with galvanized slide rail and cable pulley with smoothly sliding.

Control mode

Operator cabin

Wide vision, safety, comfortable
Can equip with air condition, cooling fan, heater, interphone…

Pendant control
Easily control and no need to set professional operator

Remote control
Easily control and no need to set professional operator, the operator can control the crane on the ground more freely.
Features
Safety Features Of Double Girder Still Mill Crane
1. Limit Switch:
Safety limit switches for stoppers will be provided to prevent over traveling in all motions.
When several units of crane travel on the same railway, the cranes can install the following devices:
Anti-collision device,
Infrared non-contact and inductive type limit device
Sound and light alarm device
Wireless anti-collision device
3. Weight overload protection device
When the crane overload works, it equipped with weight overload protection device, includes automatic stopping type lifting weight limiter and weight display device.
4. Lifting limit switch and traveling limit switch
The main insulation switch, emergency stop switch, short circuit, Zero voltage protection, zero position protection, loss of field protection, Current overload protection, over speed protection, Phase sequence protection and adopted crane specially anti- vibration contactor etc. are all equipped, fully implement safety first concept.
It sets interlock device for the cabin door and the other door from cabin into bridge structure, when the door is opened, the crane can not work.